Straight Perm – Thermal Reconditioning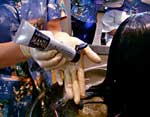 A procedure that changes your natural curly, wavy or frizzy hair into natural, shiny, straight hair permanently.
Our procedure takes around 3-5 hours to do, depending on your hair condition.
We do not use chemical relaxer and we do not damage your hair in anyway. Your hair's results will look and feel healthier.
We take pride in being experienced in the Los Angeles area. We have been doing the straight perm for over 13 years and are very confident with every straight perm we do. If we think we can't do your hair, we will let you know. We do not want to damage any person's hair. We know how important hair is.
We use a special perm solution from Japan. This solution opens the cuticles of your hair. Then we use special made straightening irons, which is the most important process to give you beautiful silky hair. Finally we use a neutralizer and this locks in the whole process. Each step has its own timing, and is why it takes so long. We will also dry your hair and show and explain how to make your perm last.