For Straightperm appointments, please give us a call.
Thank you for staying with us and I hope to hear from everyone.


All customers welcome.
Thank you!
Thank you to all for being our loyal customers.
To our exsisting customers, we want to extend a special student pricing using the same solution
Welcome to StraightPerm.com



"Proud to be the first in California."
New Treatment now offered
Thermal Reduction: A procedure that decreases your natural curl into a loose wave
We simply recondition the hair and thermally lessen or reduce your untamable curl. This process uses a mild perm solution that does not harm the hair and a special deep – conditioning method that keep the hair soft and light.
The procedure may take 2-4 hours depending on your hair condition.
Everyone has different textures and hair condition so the results are not always the same.
This perm can last over a year due to the blending of your hair growth.
Consultation is a must. This may not be suited for all types of curls.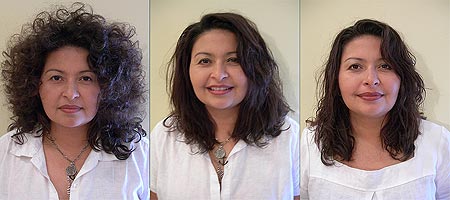 Our Straight Perm is not a chemical relaxer.

It will not damage colored or highlighted hair.

Read some of the comments and reviews of the people who have already tried this truly magical treatment

Naturally frizzy, curly, or kinky hair turns into silky straight hair. No need to blow-dry.

Perm lasts 6 months to 1 year.